Product Information
The design and operation of each product will be primary tools of expression, emotion and timeless elegance.
Accessories that tell a style that is constantly changing in a market that requires more innovation and an "uber cool" effect.
Marzia Di Rosa is a collection of perfume jewels with a strong character to fall in love with, destined to last over time, through the seasons, that represent an extremely personal trait of recognition, given by the perfume.
Jewels designed to be used as an object of desire, for a sophisticated woman who loves to wear jewelry with a great character, a clean aesthetic and superfine elegance and, most of all, Made in Italy. These perfume jewelry collection includes a perfume dispenser spray, plated in eco-brass with 24Kt gold, palladium lacquer and varnish, enriched with Swarovski and Preciosa stones. The dispenser spray can be removed from the item and refilled with the preferred perfume through a glass dropper, custom made to fit any size of the perfume bottles. In case of sealed perfume bottles, a small funnel will be provided in order to fill in the dispenser. Size and materials have been studied in order to give the product an essential and not excessive weight on the woman. Moreover, all the products are nickel free. Furthermore, the product project has been patented as the peculiarity of this product is the insertion of a perfume container/dispenser inside a jewel; this is the competitive advance that makes it unique as it is the result of the merger of two different product categories, still not available on the market.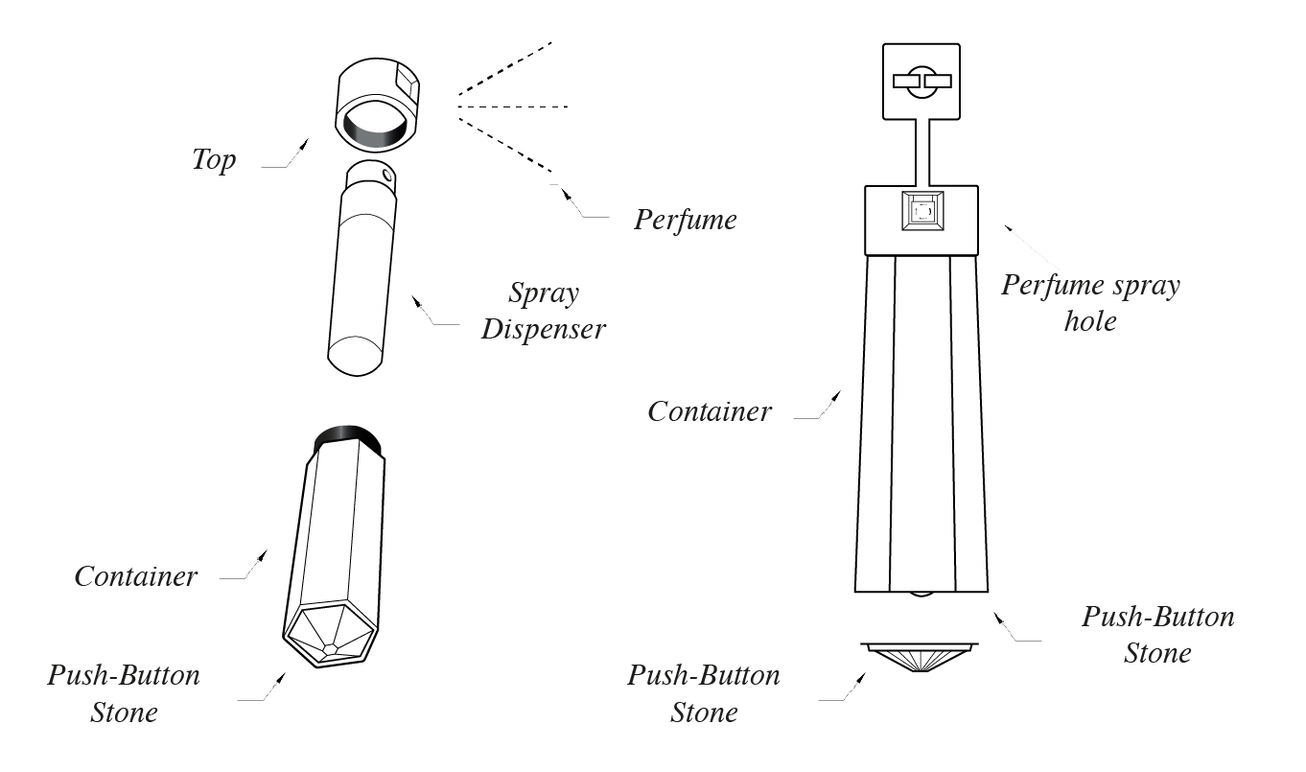 As shown, unscrew the cap from the container to allow the insertion of the dispenser spray inside. Once inserted, make sure to fit it correctly, matching the perfume spray hole to come out with the respective opening in the container cap.
Proceed by screwing the cap, then checking the correct insertion of the dispenser spray in relation to the outlet hole.
Now press the stone at the base, a button that, once activated, pushes the dispenser spray, pressing the spring that allows the perfume to escape.